A lush and serene garden is one of the most prized possessions of an individual who loves nature. However, lack of space in cities proves to be a big hindrance. Having a terrace garden is not only about keeping pots in scattered spots. Rooftops can be a great option as you can set your garden over there. Not only will you get refreshed, but rooftop gardens also help maintain cooler temperatures around you.
If you are creative and know the minute details, you can easily transform your terrace into an outdoor space that's ideal for relaxation. The lawns, water bodies, lighting, and shaded areas add charm to the place and help you get into a relaxed state of mind. Below are some helpful tips for you if you want to set up a lush green rooftop garden.
Check How many loads Your Roof Slab Can Take.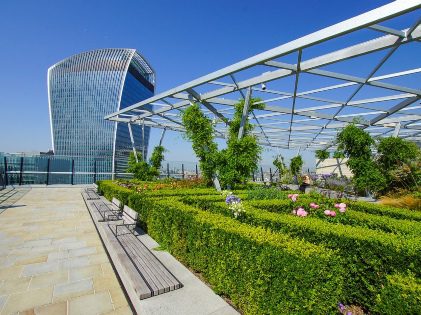 This is the first and basic step before setting up a rooftop garden. You need to check the load-taking capacity of your roof slab. If it isn't strong enough to bear the load of a rooftop garden, then you might have to drop the idea. It needs to carry the load of the plants, the soil weight, the waterproofing systems, the seating arrangements, et al.
According to experts, you must take the help of a professional to carry out an analysis of the structural system properly and find out the correct location where you can set up a rooftop garden. The slab won't support too much weight if it's a cantilevered roof.
Pre-Treatments
Be it any terraced garden. You must take care of how to prevent water from getting stagnated and plan the drainage points accordingly. Water stagnation and seepage will lead to the development of cracks in the slab, thereby causing structural damage. Experts say you should treat the roof slab with a layer of screed concrete and then waterproof the slab with bitumen or any other chemical compound that will serve the same purpose. If you are using planter boxes, apply the compound to them before filling them with soil. To ensure an efficient drainage system, you can use PVC drainage cells with a layer of geotextile fabric on top of it. You can then pour the soil into these two layers.
A Right Mixture of Soil is Necessary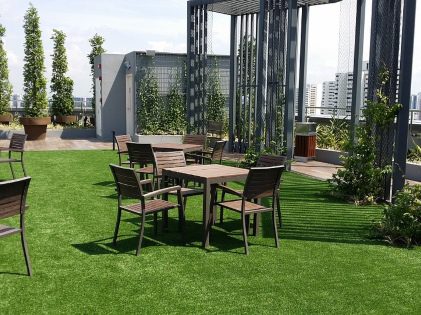 The soil mixture used for outdoor gardens is not the same as the soil mixture for terrace gardens. Remember that the soil mixture used for terrace gardens should be lightweight and suitable enough for the water to drain. The soil in the terrace gardens needs to have regular garden soil, fertilizers, and soil conditioners. The function of the soil conditioners is to improve water retention and help in holding the nutrients back. You can use vermiculite (soil conditioners with a silicon base) or coco peat (organic option).
Choose Plants Accordingly
You should opt for a perfect mix of plants, shrubs, and ground cover when you are aiming to create a rooftop garden. As per the experts, for temperate climate, the common choices are bird of paradise or Strelitzia reginae, plumbago or Plumbaginaceae, areca palm or Chrysalidocarpus lutescens, and yellow trumpet bush or Tecoma gaudichaudi, T. castanifolia, and many others. Monkey grass or Ophiopogon japonicus, verbena or Verbenaceae, and rain lily or Zephyranthes candida. If the roof slab can hold the weight, you can choose tropical trees such as Saraca Asoka, the Ashoka tree, or other trees. You can opt for low-maintenance gardens for terraces that are overexposed to the sun.
Plan the Aesthetic Elements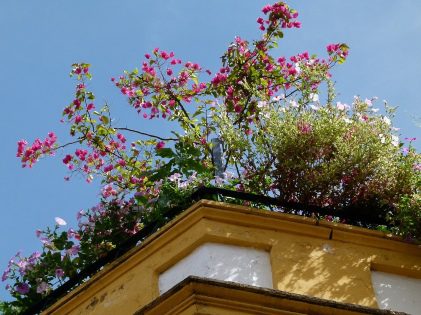 You should include seating in places that are not directly exposed to sunlight. When you plan to incorporate the seats, you should focus on the material. If you stay in a cooler climate, acacia wood can be a perfect material for your seats. If you live in a warm region, dressed stone seats stay cool for most days.
You can also opt for movable furniture made from materials suitable for all weathers, such as rattan. You can also incorporate golden ornaments and other decorative elements that can add an aesthetic touch to your rooftop garden. So, are you ready to explore a whole new world of beauty on your terrace? Do let us know in the comments section. And if you have any fun tips for maintaining the terrace garden, don't forget to mention them too.