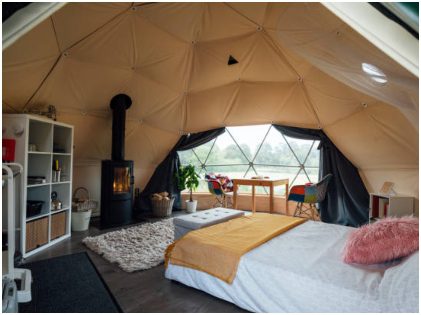 Everyone is doing glamping nowadays, but what is it? It is just one way of glamorising staid camping. If you love the outdoors and want to amplify your experience with luxuries, then it can turn out to be a cosy and comfortable experience, one that is not short on thrills and adventures. Glamping can get quirky when you use unique glamping pods, treehouses, yurts, or safari tents. You can also add good old fashioned tents and have a bit of both, luxury and tradition in equal measure. Here is how you can amp up your style in true blue glamping style.
Choose The Best Camping Site
This one might sound like a given, but it is one of the most important reasons to choose your camping site first. You need to choose a style site that offers more than just a field and you also have a provision of a toilet nearby. But you don't need to spend more money to get luxury camping spaces. So, you may need electricity, hot water, laundries, a good bathroom, washing up areas, kids play area, and gorgeous surroundings too.
Luxurious Tents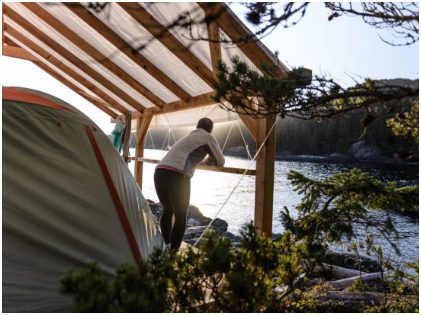 A good tent can make or break a glamping trip. Pack any tent where you can stand up all the way around. You don't need to duck and crouch to travel through the doorway! It may not be huge but it should be spacious enough as it's so much higher. It may also have swinging doors and the sides are easily lifted so it's light and airy. Moreover, you should be able to fold it neatly into a wheelie bag so it's easy to move. Since it does not always come with an awning you'll need to get one to go with it. Ensure that it checks all the other boxes as well, such as it should be double-skinned so it can protect itself from the rains. Also, don't forget to pick one that is easy to put up and take down as well. Ideally, you should select an eight-man tent and of course, it should be of good quality. A tent with an awning can mean you can easily take off your muddy boots and can cook easily as well.
A Comfortable Place to Sleep in
It is always important to sleep somewhere that is cosy and fun. For that, you can pack an inflatable mattress that will be high enough for you to feel comfortable and warm. It is usually the last word on glamping luxury. It makes sense to bring your normal bedding such as your winter bedding, pillows and sheets rather than a sleeping bag to make it easier. If you are travelling by car, you don't need to pack light with a sleeping bag that can be folded into a tiny bag. You can take a lot of bedding, enough that you can easily pack in the car. You can pack several essentials such as hot water bottles, slipper socks, and your dressing gown too.
Clothing
Pack your clothing in a way as if you are going camping. It is not always about whether your weekend getaway has heat and air conditioning, but ensure you get to soak in a lot of nature while you travel.  Your days and nights may include spending time chatting around the fire or just go about hiking and exploring the area. Always check the weather forecast to find out exactly what you need to bring along. Just ensure you pack in a lot of layers as they can help you to protect yourself against various weather conditions.
For Entertainment
If you plan glamping trips, you may schedule a little bit more downtime between your activities. That way you can relax and enjoy your luxurious glamping site without any hassle.
Pack in a few books, board games, and sports equipment to have a great time. You can even enjoy flying a kite, especially when there is a lot of space around to move. Also, entertainment depends a lot on the place you are living in, so you can pack in your snorkel gear, slackline, or an inner tube to enjoy floating down the river.
Glamping can be as much fun as you want it to be. So pack in the bare essentials and enjoy the time of your lives.