Traveling light or with just one backpack can give you a great sense of liberation. While most of us have the best intentions to travel wide without packing on many clothes, we seldom manage to do that. Traveling with one single backpack is an art that even the most seasoned travelers fail to master. So, here are some helpful tips for nailing the art of traveling with just one backpack.
The Right Backpack is the Perfect Option
When you choose the right backpack, your journey becomes easier. So, choose a bag that is of the right size and capacity. For a weekend break, a 30-liter bag may be just right. However, for week-long trips, you may need a capacity of 35 liters, and that could be enough. With 45 liters you can have enough clothes for two weeks.
Check the measurements of the bag you are going to carry to find out whether it caters to the needs of the airline carry-on dimensions. The standard airline restriction may allow you to carry a 55-liter backpack. Sometimes it is best to try out the bag to find out whether it fits your needs right, instead of ordering any random bag. Look for details such as padded shoulder straps that will sit comfortably on your shoulders instead of pinching them. Also, find out whether a traditional backpack suits you better or a duffel bag with straps.
Choose Your Clothing Right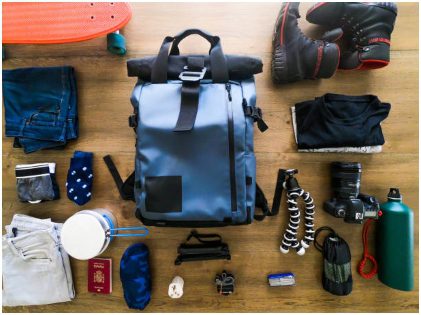 If you are thinking about carrying your world in just one backpack for a few days, you have to be strict about what to pack and what to leave out. Take along a versatile piece of clothing that you can pair with numerous things. You can try the rule of three, where you have to take three of all items that you want to take. So, it can include three t-shirts, three pairs of shorts, three pairs of jeans/bottoms.
That way, you have one to wear, one as a spare and one that you'll wash. When it comes to footwear, take one along while you wear one. Bring along lightweight clothing as it takes a lot less space and dries up quickly. Lightweight clothing also dries up quickly, so you don't have to carry a lot of clothes.
Get Organized for Easy Access
When you get your backpack, ensure that you separate the clothes properly, segregating each one of them your clothes, it is time to segregate the clothes so that you get to access them. You may choose a bag because of its various compartments, which can help you store clothes such as toiletries, electronics, and documents and pack them in individual places.
You can also pack the clothes in various sets of cubes. They come in various sizes. Thus it is easy to identify when you are looking for something quick. Packing the clothes in cubes can also promise you more space. You can even compress the clothes in zip-lock bags. These kinds of bags are useful to store away dirty clothes. First, you need to pack your essentials, and next, pack the not-so-essentials.
Pack Minimal Toiletries
You may be in the habit of using a particular type of toiletries, but it does not make sense to pack them all in your backpack trip. Toiletries are available worldwide, so you may easily get the ones you need at your destination. People who travel light carry only the bare essentials such as a deodorant, toothbrush, and toothpaste. But, if you are staying at a hotel, then chances are you will get all your favorite toiletries in the hotel room. While the hotel might not have your favorite toiletries brand, they may have something that you may like. Also, all you need to do is saunter at a store or pharmacy nearby to get all the toiletries you need.
When you pack too many clothes, you may notice you don't get to wear most of the things you bring along, which is a pity. So, save some space and only bring the stuff that you need. And as they say, practice makes perfect, so you may not be a pro on the first try, but with time you'll be a master at backpack packing! It might surprise you to know how light you can travel.